Hearing aids are a blessing to millions of Americans with hearing loss, however, they do have limitations. Hearing aids do not work for all types of hearing loss. Some people find hearing aids uncomfortable to wear or complain of the plugged feeling (occlusion effect) they experience when wearing the aid. Hearing aids must be cleaned frequently and their batteries need replacing on a regular basis. Hearing aids are affected by constant exposure to heat, humidity and earwax buildup in the ear canal.
For some individuals, implantable hearing devices might be the key to improved communication. There are several different types of implantable hearing devices; cochlear implants, bone anchored hearing aids and auditory brainstem implants.
Bone Anchored Hearing Aid
Bone Anchored Hearing Aid, or BAHA, is a hearing device that relies on direct bone conduction to transmit sound. This surgically implanted device bypasses the auditory canal and middle ear. These devices are an alternative for people with chronic ear infections, congenital external auditory canal atresia and single-sided deafness. These patients usually do not benefit from conventional hearing aids.
How Does BAHA Work?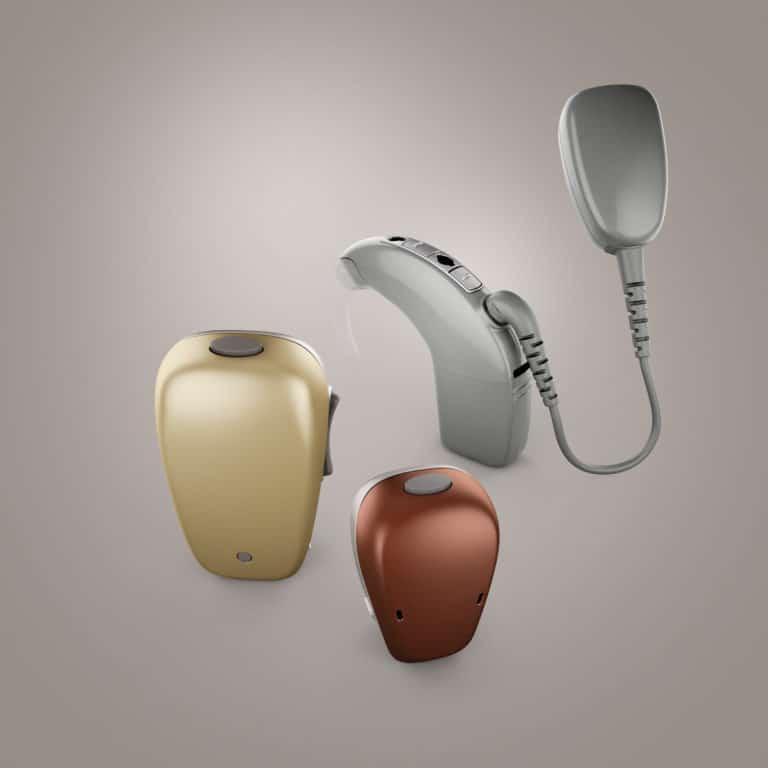 In a person with normal hearing, sound enters the external ear and travels down the ear canal through the middle ear to the cochlea, or inner ear. This process is called air conduction.
For individuals with certain types of hearing loss, sound is unable to travel down these pathways. The BAHA system takes advantage of the bones' natural conductive abilities by sending sound vibrations directly to your inner ear, bypassing the auditory canal and middle ear completely.
The BAHA device is made up of three components: a titanium implant, an external abutment and a sound processor. Once the surgical implant is in place, it gradually fuses with the skull bone over a period of several months in a process known as osseointegration.
The BAHA unit is then ready to be fit and programmed. The sound processor transmits vibrations through the external abutment to the implant, where vibrations in the skull and inner ear stimulate the nerve fibers responsible for hearing.
BAHA is a safe and effective FDA-approved treatment alternative that enables many hearing-impaired individuals to communicate more effectively. It has been available in the U.S. since 1977.
Who Can Benefit from a BAHA?
Candidates for BAHA are typically patients with conductive and mixed hearing losses, or those with unilateral (single-sided) hearing loss.
If you experience chronic ear infections that do not respond to treatment, you may find the BAHA system particularly beneficial. Conventional hearing aids can aggravate the condition due to humidity and moisture building up in the ear canals. Those with congenital ear defects (such as ear canals that are narrow or absent) are also candidates.
Baha 5 Sound Processor
Cochlear™, the industry's leader in implantable hearing devices, has just launched its latest bone conduction sound processor – and it's smaller and more powerful than ever. The Baha® 5 Sound Processor is packed with features that enable persons with single-sided deafness and those who have conductive or mixed hearing loss to communicate more easily and effectively.
The Baha 5 Sound Processor is the smallest in the industry, and is available in a variety of colors to match different hairstyles – ideal for patients who do not wish to draw attention to their hearing device. Despite its small size, it includes a number of standard features designed to improve the listening experience.
SmartSound® iQ technology automatically selects the best program for your listening environment, eliminating the guesswork and ensuring you'll enjoy optimal sound everywhere you go. It works great in restaurants, movie theaters, concerts and in casual settings where you're socializing with friends.
The Baha 5 is the first sound processor made for iPhone users, and can stream sound directly from any iOS device, including the iPhone and iPad. This translates to clearer sound that is more natural. And with the Baha 5 Smart app, you can customize your device with a variety of sound settings and programs. Best of all, should you lose your sound processor, the app will help you locate it!
Those who wish to connect to wireless accessories will find the Baha 5 a perfect fit. Its wireless connectivity allows you to pair it with a variety of electronic devices such as televisions, phones, tablets and MP3 without the need for a streamer. Wireless accessories help improve speech clarity in noisy environments and enable you to watch TV or listen to music in private.
Data logging is another feature you will find helpful, especially if your child is using a Baha 5 Sound Processor. The device keeps track of all pertinent data, allowing your audiologist to make adjustments based on usage patterns. This ensures your child will hear to the best of his or her abilities regardless of the listening environment.
With its advanced technology and smart design, it's not surprising the Baha 5 won the prestigious Red Dot Award for Product Design in 2015. This award is reserved for those products that demonstrate excellent creativity, innovation and quality – proof that the Baha 5 excels in all areas!
Cochlear Implants
A cochlear implant is a surgically implanted device that bypasses damaged hair cells in the ear and provides electrical stimulation directly to the auditory nerve, giving patients who are severely hearing impaired or profoundly deaf the ability to hear. It is most beneficial for those who cannot be helped with a traditional hearing aid.
How Do Cochlear Implants Work?
A cochlear implant works differently than a hearing aid. Hearing aids amplify sounds so that a person with nerve damage can hear more clearly. Cochlear implants generate an electrical signal that the brain interprets as sound. The implant has an external portion that sits behind the ear, consisting of a microphone, a speech processor and a transmitter. These work in tandem with the internal components – a receiver and an array of electrodes, which have been implanted in the ear.
The microphone picks up sound and sends it to the speech processor, which converts these signals to digital impulses and sends them to the transmitter. The transmitter, in turn, sends the processed audio signals to the receiver. From there, they are transmitted directly to the brain through the auditory nerve. While a cochlear implant does not cure deafness or restore hearing loss, it does allow a patient to perceive sound, and can help him or her to converse again.
If you are experiencing severe to profound sensorineural hearing loss (the result of nerve damage to the inner ear) and can't benefit from conventional hearing aids, you are a prime candidate for cochlear implants.
These implants are most helpful in patients with solid language and communication skills and a hearing loss that occurred later in life. Younger children (typically between the ages of two and six) also benefit, since a cochlear implant exposes them to sounds during their formative learning years, while they are developing speech and language skills. Post-implantation therapy is a crucial component in the success of cochlear implants; learning to use them correctly takes time and effort.
If you have cochlear implants, continuous adjustments are the best way to ensure you're hearing and understanding your best.
Call Southwest Idaho ENT at (208) 336-4368 for more information or to schedule an appointment.