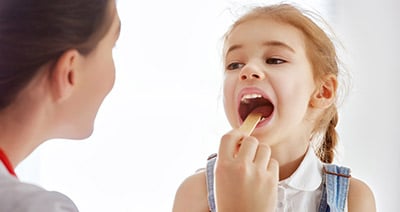 As human beings, our brains are wired to consider "worst case scenarios" all too often–especially when it comes to our health. A sore throat is one of the worst culprits, causing us to wonder if it's something more serious, like tonsillitis, which can require the infamous tonsillectomy.
Tonsillitis
Tonsillitis can be tricky because, unlike other health conditions which are more easily identified at home, tonsillitis masquerades as what might appear to be a common sore throat. There are some important differences, though, and it all comes down to the tonsils themselves. Tonsils create white blood cells to combat bacteria and diseases, making the tonsils a sort of "first responder" in the immune system. However, the tonsils pay a price for their work: they are susceptible to infection, inflammation, and discomfort. Symptoms of tonsillitis last ten days in children and longer in adults, and are more common in prepubescent kids. If symptoms return regularly, however, it may be time to talk to your doctor about a tonsillectomy.
Symptoms
So, what are the symptoms of tonsillitis? Let our ENT Doctors explain!
Pain. One of the first signs of tonsillitis is the pain. It's common for one side of the throat to hurt at a time, while swallowing becomes difficult and painful. Tonsillitis is also characterized by a severe sore throat, in which both sides of the throat ache.
Hoarseness. If you notice that your voice is hoarse at random times and remains so for extended periods of time, it could be a sign of tonsillitis. Check for other symptoms and then discuss your findings with your ENT doctor.
Other problems. Some tonsillitis symptoms are slightly more unusual, and thus help to identify tonsillitis as more than just a sore throat. If you notice that the lymph nodes and glands on your neck are swollen, you might have tonsillitis; similarly, if you see coating on your tonsils that appears white or yellow in color, you might have more than a simple sore throat.
Interested in more info on tonsillitis and tonsillectomies? Looking for ENT Doctors? Contact us at (208) 336-4368 today!