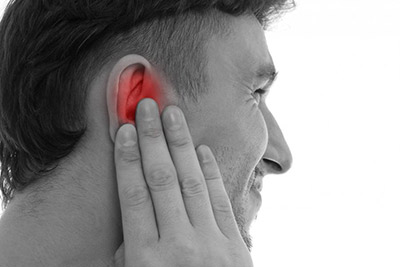 What is childhood? The answer to that question will differ depending on whom you ask–not least because "childhood" refers to a different experience for all of us. However, no matter what kind of answers you get, from pillow-fights to amusement parks to swimming in the lake, it is an unfortunate truth that ear infections are often a big part of childhood. In fact, ear infections are reported among the top most-heard complaints in the pediatrician's office. However, while an ear infection certainly is a popular childhood malady, this illness can affect anyone. So who is at risk? What are the symptoms? What do you need to know about ear infections?
Ear Infections
An ear infection, or otitis media, is an infection of the middle ear. The middle ear rests just behind the eardrum and contains tiny bones responsible for picking up vibrations and sending them to the inner ear. Because of this location and connection to the other parts of the body, the middle ear often suffers ear infections during colds and other respiratory infections. This accounts for the frustrating frequency of ear infections. However, there's more to know about ear infections.
The Basics
So, what are the basics? What do you need to know about ear infections? Here's a quick look.
Causes. The middle ear is supposed to be well-ventilated by the Eustachian tube, which provides fresh air from the nose. When this flow of fresh air is blocked the middle ear cannot be properly ventilated, and the result is a warm, wet environment that ushers in germs like a welcome mat. This causes the eardrum to take on a red, bulging appearance, which doctors will recognize at once as an ear infection.
Patterns. Ear infections occur in "patterns," and can be described in different stages. The first stage is an isolated ear infection, called acute otitis media. The second stage occurs only when an ear infection clears up and returns three times in a 6-month period or four times in a 12-month period. This is called recurrent acute otitis media, and may indicate issues with the Eustachian tube.
At-risk individuals. Studies have shown that certain groups of individuals are more at risk for ear infections than others. These groups include males, bottle-fed babies, users of tobacco or those living in a household with tobacco use, and those with chronic respiratory issues.
Need to know more about ear infections? Looking for Boise Ear, Nose, and Throat care? Contact us at (208) 336-4368 today!