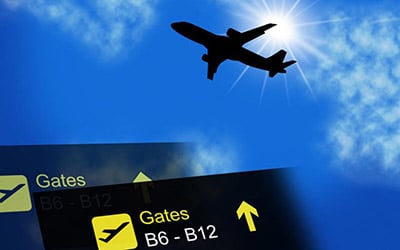 While there are a host of reasons people don't like air travel, a common complaint is the onset of illness after travel. Our sinuses can be sensitive, especially in environments we are unaccustomed to. Not only that, but planes can harbor some pretty deadly germs for up to 7 days. Auburn University researchers James Barbaree and Kiril Vaglenov say that airplane armrests are worse than a toilet flush handle. (Yikes!) If you know you are about to take a flight, there are some steps you can take to prepare and protect yourself from illness and germs.
What Is It About Airplanes?
First off, what is it exactly that causes air travel to make us sick? There are a few factors at play.
Changes in air pressure can affect your sinuses if they are already irritated. The change in air pressure can increase nasal congestion and worsen a cold.
The air in the cabin will be dryer than usual, fighting against your natural mucus.
You are surrounded by strangers who could be starting or ending a cold of their own.
As we said earlier, germs can live on planes for up to 7 days, which means you could be exposed to a plethora of unknown contaminates.
Prepare Before You Fly and Take Precautions While Traveling
There are some precautions you can take to prevent sickness and the spread of germs.
Bring sanitizing wipes with you and wipe down your seat, armrests, buckle, and especially your tray table as soon as you find your seat.
Wash your hands every chance you have. Thousands of people travel every day, and you do not want to catch whatever it is they have.
Open your air vent. That's right, all those rumors you heard about the air vents spreading the germs are all false. That air is the best you can get on that plane.
Hydrate, especially with hot water. Drinking water is extremely important while traveling, and drinking hot water keeps your protective membranes moist.
Make sure you are rested before travel if possible. When we are tired, our immune systems are already sensitive. To combat your chances of getting sick, it helps to ensure you are well rested and your immune system is prepared.
You shouldn't have to be afraid of getting sick every time you fly. These few simple steps can help keep you healthy and germ-free.
Do you have reoccurring sinus discomfort? An Ear, Nose, and Throat Specialist can help provide a solution. For a comprehensive center with specialty care, contact us at (208) 336-4368 today.