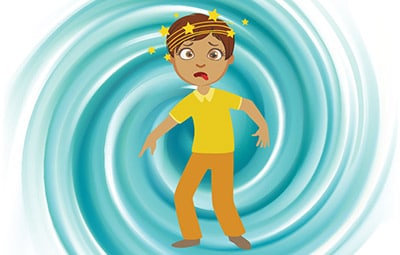 Having a child in pain can be heartbreaking to watch, even more so when they exhibit symptoms we may be unfamiliar with. Complaints of dizziness and nausea for short periods of time can be confusing, and we don't think of children as having issues with vertigo.
Vertigo is directly associated with the inner ear and is a feeling of extended dizziness that can last 20 seconds or even a minute. The internal ear helps the body stay balanced by sensing the head, body position, and motion. Read on to learn how to help a child with vertigo symptoms.
What Causes Vertigo?
Vertigo is a miscommunication between your brain and inner ear. In children, internal ear problems can derive from a few different issues. One is a cold or sinus infection that causes congestion. The fluid that backs up to the tubes that connect the sinus and ears can cause the wrong signals to be sent to the brain. A head injury can also lead to vertigo if the inner ear structures are damaged. Benign paroxysmal vertigo of childhood has symptoms of spinning and nausea that can appear before the age of eight.
Diagnosis and Treatment
If your child continually complains of nausea and dizziness, it can be something more than the flu or stomach bug. An ear, nose, throat (ENT) doctor is best qualified to review your child's symptoms. An ENT doctor will test your child's vision to rule out eye problems. If no vision problems seem to be present, your provider can prescribe medications to help ease the symptoms of vertigo in your child. Antihistamines, motion sickness medicine, and antibiotics in case of an ear infection are all possible treatments.
Activities that require balance such as skateboarding or riding a bike are best avoided until vertigo passes. To get in touch with an ENT doctor, contact us at (208) 336-4368 today.