Noise is the top cause of hearing loss in Boise and Nampa. Unlike age-related hearing loss, it can affect anybody—even kids. Sure, potentially damaging noise can occur at a concert or sporting event, but there are some less-obvious sources, as well…such as the presents beneath your Christmas tree.
Noise-Induced Hearing Loss Statistics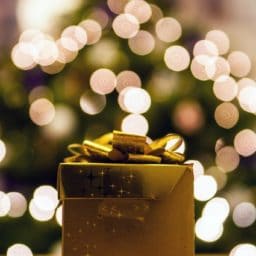 Approximately 15 percent of all Americans experience noise-induced hearing loss (NIHL). When you're exposed to sounds exceeding 85 decibels (dB), the tiny hair cells in your inner ear can experience permanent damage.
How does noise-related hearing loss impact children?
High frequencies are affected first, but hearing loss is progressive, and will only grow worse with time. The problem is especially acute in children, who are at risk for speech-language delays that can negatively affect their social and academic performance.
How common is dangerous noise in Idaho?
An estimated 30-50 million people in the U.S. are exposed to dangerous volume levels every day, including about half of all Boise and Nampa teenagers and young adults aged 12 to 35.
Can noise-related hearing loss be prevented?
Fortunately, NIHL can be prevented. Wearing hearing protection when participating in noisy activities, keeping the volume set to no more than 60 percent of maximum when listening to music through earbuds and headphones and taking the steps to reduce exposure to noise as much as possible are the best ways to protect your hearing.
Keep Your Children Safe this Holiday Season
Your Boise audiologist warns that many of today's most popular toys could cause your child long-term hearing damage. Tried-and-true favorites that have delighted generations of kids aren't immune; toy cap guns (105-110 dB), whistles (106 dB), keyboards (104 dB) and drums (103 dB) all make the list. Even rattles (102 dB) can be dangerous!
How loud are common children's toys?
You can help preserve their hearing by discouraging them from asking Santa for the following unsafe toys (peak dB levels are noted in parentheses):
Black & Decker Junior Leaf Blower (113.8 dB)
Marvel Avengers Infinity War Infinity Gauntlet Electronic Fist (108.5 dB)
My Little Pony Singing Rainbow Dash (108.4 dB)
Vtech Go! Go! Smart Wheels Minnie Convertible (107 dB)
Star Wars: The Last Jedi Bladebuilders Electronic Riot Baton (106.3 dB)
toys Woofer Hound Dog Guitar (106.2 dB)
Marvel Avengers Infinity War Mission Tech Iron Man (106.1 dB)
Fisher-Price Sing & Learn Music Player (105.6 dB)
Fisher-Price Bright Beats Spin & Crawl Tumble Ball (104 dB)
Fisher-Price Laugh & Learn Puppy's Busy Activity Home (103.7 dB)
toys Meowsic Keyboard (103.4 dB)
toys You Turns Steering Wheel (103.3 dB)
Fisher-Price Rock 'n Sort Snail Pail (103 dB)
Marvel Black Panther Slash & Strike Erik Killmonger Figure (101.6 dB)
Fisher-Price Shimmer & Shine Tummy Rubs Nazboo (100.7 dB)
VTech Pull and Discover Activity Elephant (100.3 dB)
VTech Drill & Learn Toolbox (99 dB)
Spider-Man Homecoming Super Sense Spider-Man (99 dB)
VTech Sort & Discover Drum (98.8 dB)
Playskool Friends Sesame Street Tickle Me Elmo (90 dB)
How can you reduce toy noise volume?
If your child does receive a noisy toy from a well-meaning relative and you don't want to be a Grinch by confiscating it, you can always cover the speaker with masking or packing tape; this should muffle the sound enough to make it safe.
If the toy has a volume control, set limits on how loud your child is allowed to turn it up and insist they only play with it in your presence. Granted, this might make them unhappy, but cheer up: it's likely they'll outgrow that toy in a few months.
If you'd like safe gift ideas for your child that won't cause harm to their hearing, reach out to an audiologist in Boise or Nampa.
---
Learn more about noise-related hearing loss:
---
Our Boise and Nampa Office Locations
Boise
900 N Liberty St # 400, Boise, ID 83704
(208) 367-3320
Nampa
4424 E Flamingo Ave #320, Nampa, ID 83687
(208) 367-3320