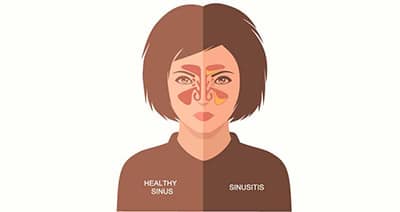 So many individuals (more than you may think) suffer from daily sinus problems. Do you experience nasal discharge or draining into the back of your throat, persistent headaches behind your eyes, loss of taste or smell, difficulty breathing through your nose or other sinus related complaints? These ailments are commonly heard by ear nose and throat doctors, and so often we find that people think they just have to live with the pain and discomfort. That is why we care about letting you know about some of the minimally invasive options to help with sinus suffering.
Common Sinus Problems
More commonly, these symptoms are short-lived and related to a cold of flu; they typically go away with some cold medicine or a mild antibiotic. In the case of chronic sinusitis, a condition in which sinus problems are reoccurring, a slightly more aggressive approach can be taken. Changing your lifestyle and taking medication can often be the solution. However, when that route fails, what are your options? Are you simply doomed to deal with sinus suffering for the rest of your life?
The Options Have Improved
In the past, the only options for someone with reoccurring sinus issues were either to live with the discomfort or to have invasive surgery which involved removing bone and tissue. Luckily, the options have improved. Today, you have the option of a much less invasive surgery called balloon sinuplasty. It is used to unblock sinuses which have had chronic problems.
How Does It Work?
Similar to the technique used by surgeons to unblock vessels around the heart without reverting to open heart surgery, balloon sinuplasty utilizes a balloon catheter to widen blocked sinus passages without making one single incision.
If you or a loved one have struggled with reoccurring sinus problems, we may have a solution for you. Feel free to set up an appointment or contact us at (208) 336-4368 today!