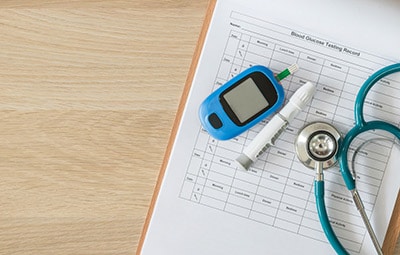 Hearing loss is the partial or total inability to hear. If you find yourself asking people to repeat themselves or are listening to the TV at a high volume, you may have some form of hearing loss. While anyone can experience hearing loss, if you have diabetes you are at greater risk. Read to learn how diabetes and hearing loss are linked.
What's the Connection?
Damage to the auditory nerves causes hearing loss. For people with diabetes, high blood sugar can cause this damage to blood vessels and nerves including the ears. Once a blood vessel in the ear is damaged, there is no backup blood supply, and it impacts your hearing ability.
While hearing loss is not an automatic symptom of diabetes, it increases your chances. Being aware of the risks and how to prevent any extra health problems puts you ahead of any future problems.
Regular Check-ups are Important
Hearing loss can be hard to recognize. Scheduling regular checkups with your doctor can help you get ahead of any damage that has begun to take place. If there is a decline in hearing health detected an audiologist could recommend a hearing aid to improve your quality of life.
Available Solutions
The best option to prevent hearing loss when you have diabetes is to be proactive. Here are some ways you can combat hearing loss:
Maintaining blood sugar levels: A well strategized diabetic management plan is the best way to prolong your hearing health.
Refrain from smoking: A health deterrent on its own, smoking is a risk multiplier when coupled with diabetes.
Limit exposure to loud noises: Any time you need to raise your voice to be heard in a noisy environment, you are doing damage to your ears.
To learn more about diabetes and how it can affect your hearing, contact us at (208) 336-4368 today!