It's estimated that about one in five people suffers from hearing loss in Boise. If you're one of them, you are already familiar with the many challenges your impairment causes in your daily life – communication difficulty, stress and fatigue, an increased likelihood of developing one of the many associated health complications such as depression or diabetes. Your personal safety in an emergency situation is also at risk.
Hearing Loss Affects High Frequencies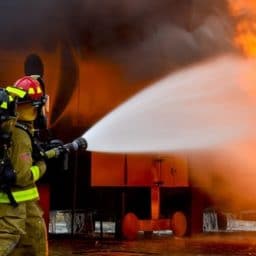 Most people with hearing loss have trouble understanding high-frequency sounds. This can be a real danger when it comes to waking up to a smoke detector. There is no hard and fast data on the number of people who perish in house fires because they weren't able to hear the smoke detector in time to save themselves, but the Hearing Loss Association of America believes the number of victims who perish in this manner may be significant. It has long been nothing more than conjecture however, since investigations into fire fatalities rarely look into whether victims were hearing-impaired.
There is no doubt that properly-maintained smoke alarms that detect the presence of smoke and produce an audible alarm are effective. They are responsible for a 50 percent drop in fire-related deaths in the last 30 years. Unfortunately, the most common smoke detectors in Boise households just aren't loud enough to awaken people with hearing loss – thanks largely to the high-frequency sounds they generate.
Low-Pitched Smoke Detectors Are More Effective
Looking for more concrete data, the Fire Protection Research Foundation (FPRF), a nonprofit organization that collects information on fire and building safety, conducted a study to search for a correlation between fire victims and hearing loss. Published in 2007, Waking Effectiveness of Alarms for Adults Who Are Hard of Hearing found that the high-pitched signals generated by conventional smoke detectors failed to awaken 43 percent of test participants. They looked at alternative types of alarms, such as visually-based strobe lights, and learned that those were even less effective – only rousing 27 percent of test subjects. Their conclusion? The best way to ensure the safety of individuals with mild to moderately severe hearing loss is through smoke detectors that emit sounds loud and clear enough to be heard. The group recommends alarms that generate low-pitched tones around 520 Hz, which proved far more effective at waking up people with hearing loss than conventional alarms that produce high-toned pitches in the 3,150 Hz range. Low-pitched smoke detectors woke up 90 percent of test subjects at the minimally acceptable fire code sound level of 75 decibels; at 95 decibels, every single person woke up.
Hearing Loss Association of America's Executive Director, Terry Portis, believes these results illustrate the need to redesign emergency systems so they are better equipped to save lives and prevent injury to the 48 million Americans who have hearing loss. Unfortunately, these low-frequency smoke detectors aren't yet available for purchase.
This doesn't mean you are completely helpless in protecting yourself from a fire. The Americans with Disabilities Act (ADA) grants hearing-impaired individuals in Boise and elsewhere with a number of rights. All public facilities that offer sleeping accommodations are required to provide guests with hearing loss effective access to their buildings' alarm systems; many offer alternative warning devices to help alert you in the event of an emergency.
For more safety tips when dealing with hearing loss, your Boise audiologist is always available to provide you with information.