Sleep apnea is a common sleep disorder in Boise. It can lead to a number of serious health complications, increasing your risk of heart attack, stroke and diabetes. Another lesser-known side effect is hearing loss.
What is Sleep Apnea?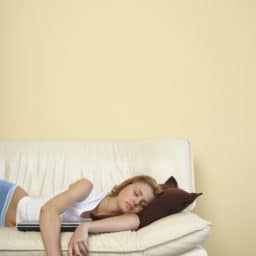 There are a few different types of sleep apnea, but obstructive sleep apnea (OSA) is the most common.
Sleep apnea occurs when tissues in the airway relax during sleep, preventing normal breathing.
Boise residents with OSA experience:
Snoring
Gasping
Choking
Poor-Quality Sleep.
The result is:
Daytime Fatigue
Drowsiness,
Morning Headaches 
Dry Mouth
Irritability
Mood Swings 
Memory/Concentration Problems
Obstructive Sleep Apnea
Obstructive sleep apnea is a serious health threat that puts a strain on your heart and makes you susceptible to a number of medical conditions – including hearing loss.
Researchers aren't 100 percent certain why OSA and hearing loss are linked, but several studies over the years do show a correlation.
One study looked at 14,000 people and found that hearing loss was more common in individuals with a higher body mass index (BMI), snorers and those with severe sleep apnea.
Another study concluded that people with severe obstructive sleep apnea, those with the lowest oxygen levels, were considerably more likely to suffer from hearing loss.
Experts theorize this is the result of reduced blood flow to the ears as well as loud snoring, the cumulative effects of which can cause irreparable damage to the hair cells in the inner ear that are responsible for hearing.
Circulatory disorders are a known cause of hearing impairment; this is evidenced by higher rates of hearing loss in people with heart disease and diabetes.
OSA increases your risk of developing these issues, as well as high blood pressure, which also contributes to hearing loss and tinnitus.
Don't Delay Sleep Apnea Treatment
The negative effects of sleep apnea and hearing loss extend beyond the physical.
Both can impact personal relationships and workplace performance and increase your odds of having a motor vehicle accident. Because of the serious nature of these diseases, both require treatment as soon as possible.
Your physician will diagnose sleep apnea through a sleep study, either at-home or in a laboratory.
Treatment involves making lifestyle changes such as losing weight and quitting smoking.
Continuous positive airway pressure (CPAP) machines or oral breathing devices are considered the "gold standard" in treatment for many individuals with sleep apnea. In some cases, surgery may be an option.
If you are diagnosed with sleep apnea in Boise, a hearing exam is equally important.
Ask for a referral from your primary physician or schedule an appointment with a hearing professional to gauge whether you are suffering from a hearing impairment.
If so, hearing aids are likely to improve your overall quality of life and lower your chances of developing physical, social or psychological side effects.
---
Related Sleep Apnea and Hearing Loss Posts:
---
Our Boise and Nampa Audiologist Office Locations
Boise
900 N Liberty St # 400, Boise, ID 83704
(208) 367-3320
Nampa
4424 E Flamingo Ave #320, Nampa, ID 83687
(208) 367-3320