We've all experienced that itchy, scratchy and painful sensation associated with a sore throat. It's usually harmless, but a persistent sore throat may be a sign of a more serious underlying medical condition.
Symptoms of a Sore Throat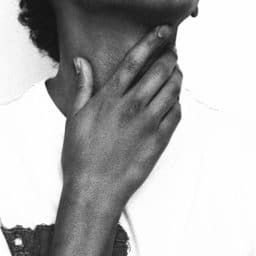 Throat pain is the primary symptom of a sore throat, but you may experience a number of other symptoms including hoarseness, dryness, swelling of the neck and jaw glands, tonsil inflammation and swallowing difficulty. Most sore throats occur in conjunction with a viral infection such as a cold or flu, but if you experience the following symptoms in addition to throat soreness, you may have a more serious condition:
Fever (101º F or higher)
Chills
Cough
Runny nose
Sneezing
Headache
Muscle and joint pain
Nausea and vomiting
When your sore throat is the result of a viral infection, it usually disappears on its own in a few days. You can help relieve discomfort by gargling with warm salt water, sucking on throat lozenges or cough drops, drinking plenty of fluids and taking over-the-counter pain medications such as ibuprofen.
Sometimes, bacterial infections can cause a sore throat. One of the most common is strep throat, caused by the streptococcus bacterium. It's often difficult for your Boise ear, nose and throat specialist to distinguish between a viral and bacterial infection; symptoms that develop faster, are more severe and last longer than a few days are often signs of a bacterial infection like strep throat. Treatment involves antibiotics.
Tonsillitis, an inflammation of the tonsils, can also contribute to a sore throat. Your Boise ENT doctor will look for symptoms such as fever, chills, earache, stomachache, neck stiffness, bad breath and white or yellow spots on the tonsils. Treatment may involve drugs or surgery.
While most sore throats are harmless and will go away in a few days, if yours is persistent, call your Boise ear, nose and throat specialist. The sooner a bacterial infection is diagnosed, the faster you'll feel better.
---
Related Ear, Nose & Throat Posts:
---
Our Boise and Nampa Audiologist Office Locations
Boise
900 N Liberty St # 400, Boise, ID 83704
(208) 367-3320
Nampa
4424 E Flamingo Ave #320, Nampa, ID 83687
(208) 367-3320